Members of the Amateur Radio Emergency Service hone their skills at various local events. Lisa Schallop/ARES
It's been two years since the CZU Complex Fire blazed through the Santa Cruz Mountains, forcing residents to flee their homes with no or little time to prepare. As the fires torched phone and internet lines, residents and emergency responders were left with only one means of communication: radio waves.
Fortunately for the Santa Cruz area, the all-volunteer based Santa Cruz County Amateur Radio Emergency Service (ARES) is ready to fill the communication void in times of emergency, anywhere in the county.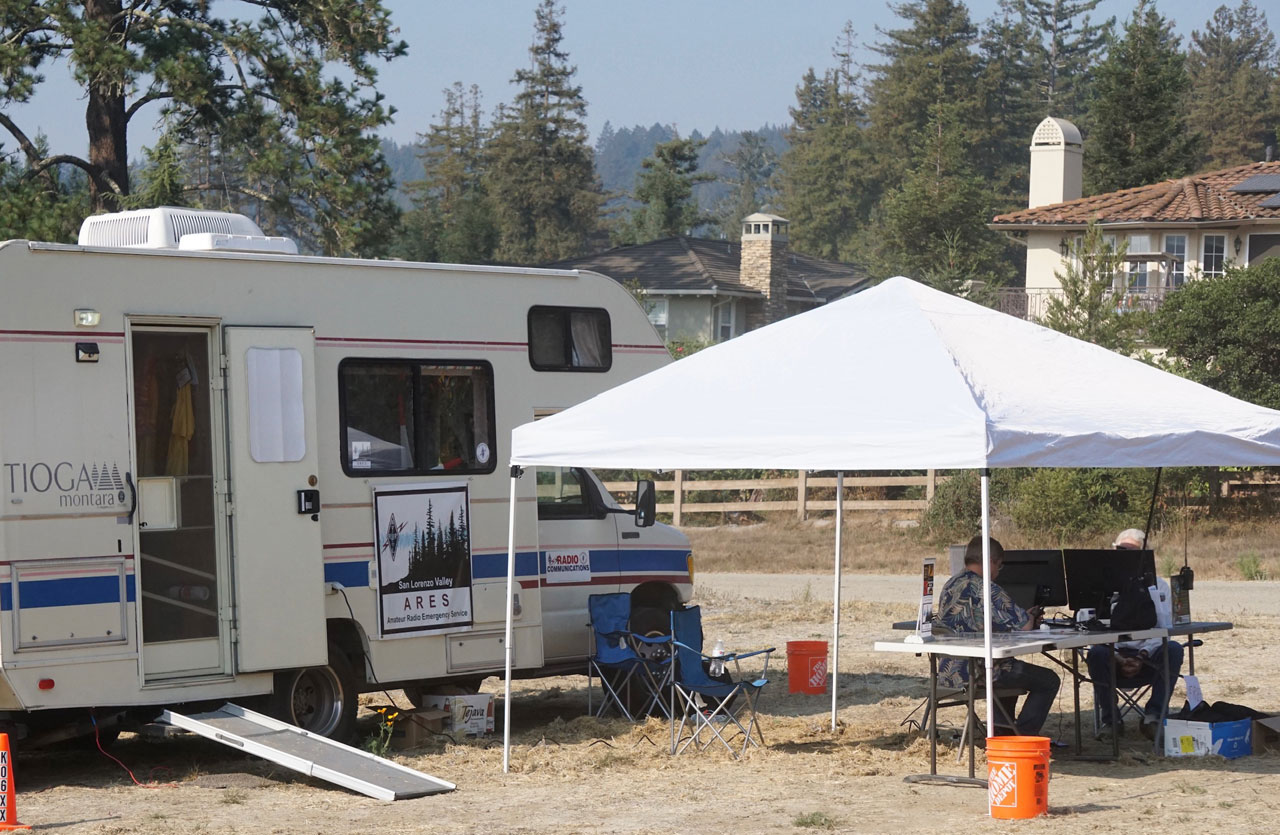 Radio communications are "particularly important in areas that are communications challenged, even during normal times," said John Gerhardt, amateur radio operator and District Emergency Coordinator for ARES. "It's not hard to find areas in the Santa Cruz Mountains where your cell phone doesn't work or doesn't work very well." Add in a propensity for power outages and you have a recipe for communication disasters. "That's the kind of thing we can help with," he said.
ARES is part of the American Radio Relay League, a nonprofit organization founded in 1914 that serves as the largest association of amateur radio enthusiasts in the United States. "We're a bunch of folks with radio licenses, who enjoy helping people with communication problems," Gerhardt said. A veteran "ham," as amateur radio operators are called, Gerhardt fell in love with the hobby when he was a teenager and earned his license in 1964. "Amateur radio is the path into technology for lots of kids, and that's the way it was for me," he said. "My career was in electronics."
Gerhardt moved to Santa Cruz in 1978, but became active with ARES only about five years ago. He decided to join ARES because it's a way for him to use his hobby and skills as a radio operator to help his community, he said. "And that's what motivates all of our members."
Radios to the Rescue
When the CZU fires forced residents to evacuate their homes with little notice, some had to make the tough decision to leave their beloved animals behind. Fortunately, ARES teamed up with Santa Cruz County Equine Evac, a large-animal rescue organization, to help coordinate the retrieval of horses and other livestock that remained in the evacuation zone. Authorities gave Equine Evac permission to enter the evacuation zones to rescue stranded animals or care for them in place—"both things which helped alleviate the anxiety of people who had been evacuated, who naturally were concerned for their animals," Gerhardt said.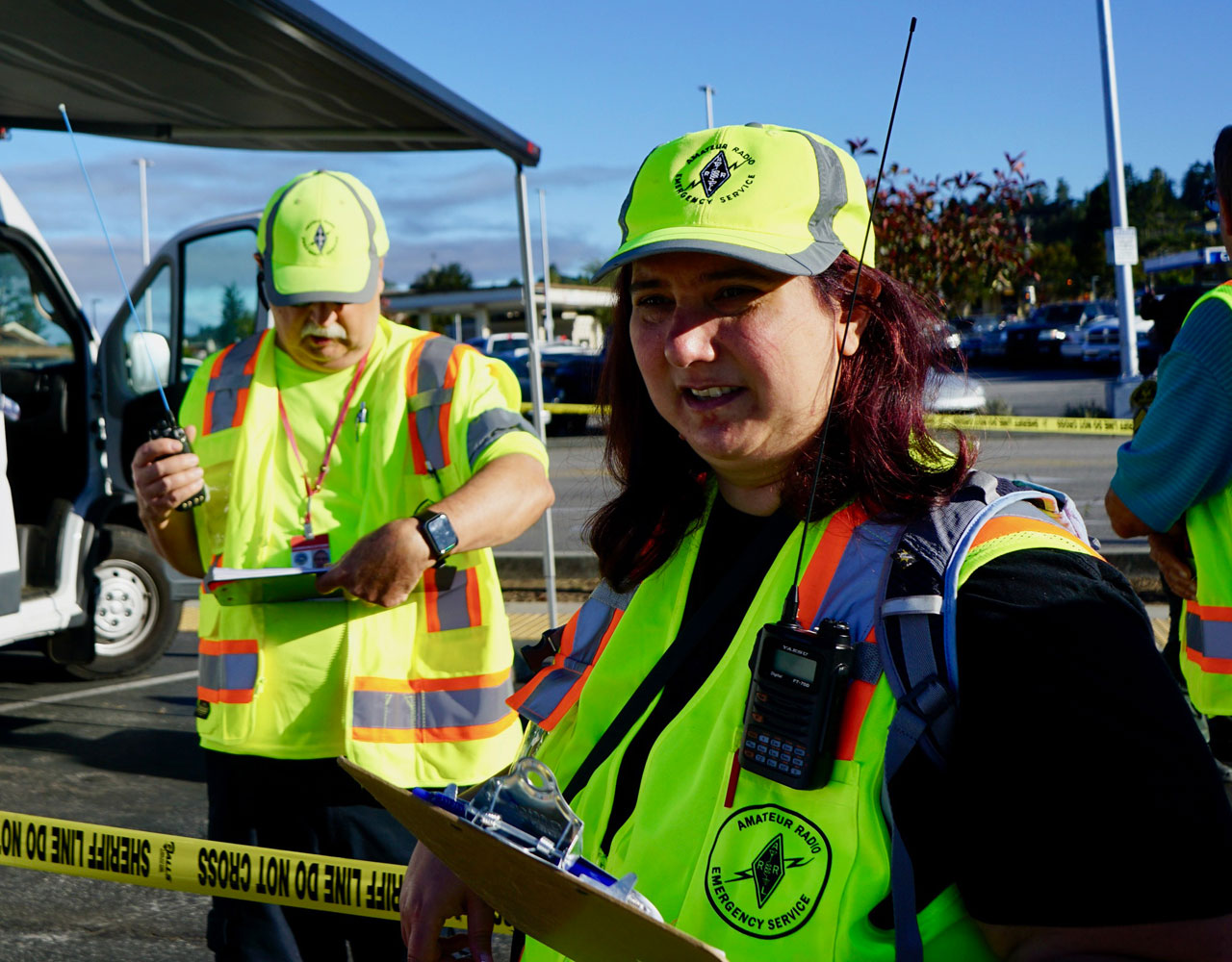 ARES volunteers made sure every Equine Evac vehicle was equipped with a ham radio so rescuers could communicate with authorities outside the evacuation zone no matter where they were. "Being able to provide continuous communications with these [rescue] teams made it easier for the Sheriff's Office to agree to allow those folks into the evacuation zones," Gerhardt said. "That took some of the pressure off the Sheriff's Office, who received a lot of requests from people who wanted to go back or might be tempted to sneak back into the evacuation areas if their livestock weren't properly cared for."
Members of the Equine Evac team were also able to spot and report smoldering spots or trees that had come down or were about to come down, thanks to the radios they had within reach as they drove through the evacuation zone.
To prepare for such events, ARES members are diligent about practicing their emergency communication skills so they'll be ready when the time comes. "We just completed a big emergency simulation exercise in late May, with the OR3 group," Gerhardt said. The OR3 is the Santa Cruz Office of Response, Recovery and Resilience, a county office created in response to the 2020 CZU fire disaster.
ARES members also get practice anytime PG&E schedules a Public Safety Power Shut-off (PSPS), which typically means long-term power outages in the mountains. During last year's PSPS, ARES volunteers worked with the local 911 center to set up a communication post on Highway 9 just north of Boulder Creek, where citizens could report an emergency. ARES members were in radio contact with other parts of the county where cell service was provided. Fortunately, there were no major emergencies during that period, but the event helped solidify a process "for collecting emergency information efficiently and being able to relay it to the 911 Center in a way that's most helpful for them," Gerhardt said.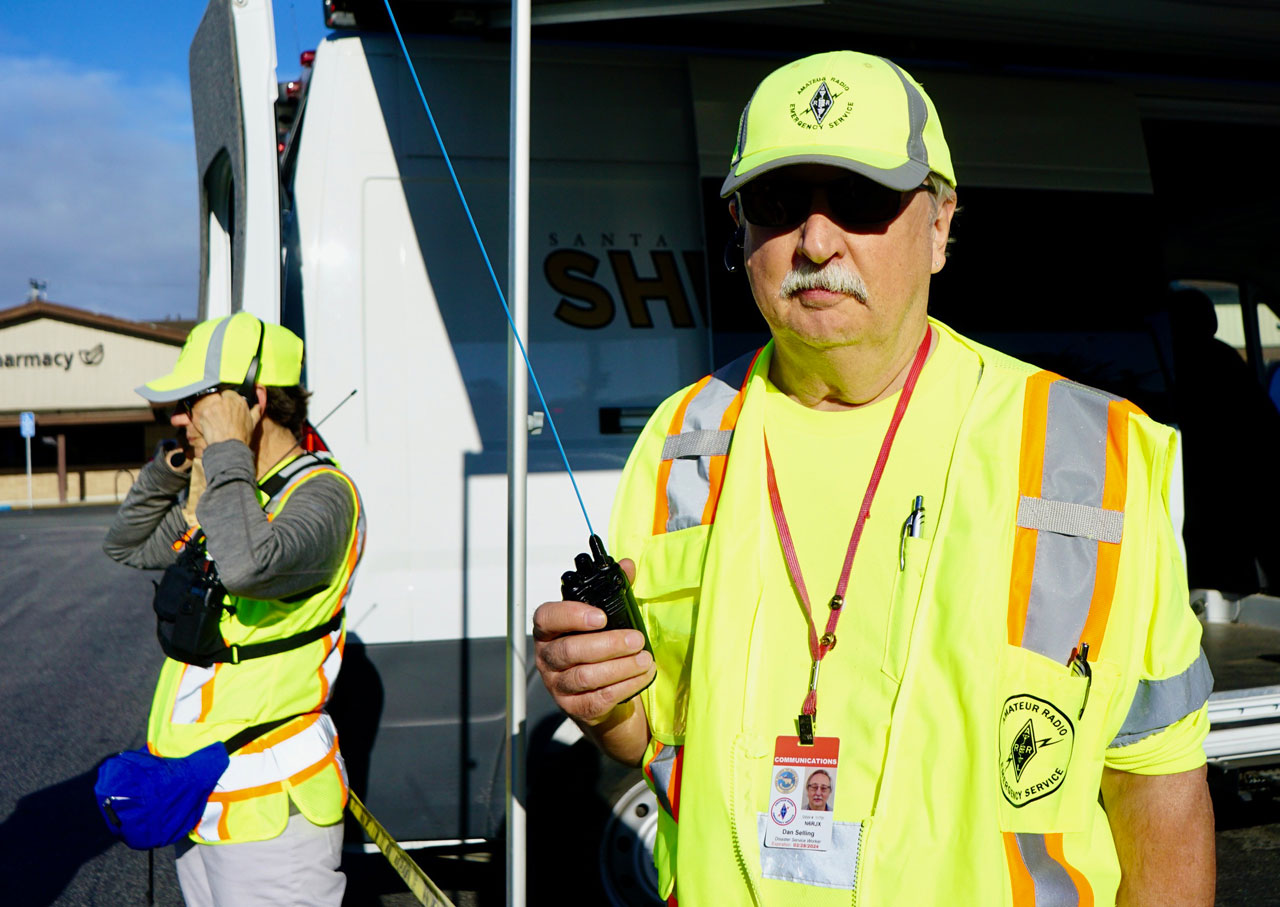 Anyone with an amateur radio license can become a member of ARES. Licenses are issued by the Federal Communications Commission after the operator completes an exam. Motivated individuals can pass the exam without taking a course, Gerhardt said, but ARES offers a free introductory course twice a year for people who are interested in getting their radio license. The course consists of one two-hour class over Zoom, once a week, for six weeks. Students can then take the license exam online or in person.
As an all-volunteer organization, ARES primarily depends on its members to finance their own radio equipment and support the group. However, for those who would like to contribute financially to the group, ARES has set up a nonprofit organization called Santa Cruz Communications Support through which people can make tax-deductible donations to ARES. The group's biggest contributor to date is PG&E, which recently awarded Santa Cruz Communications a $5,000 grant, Gerhardt said.
Connecting Local Radio Waves
The CZU fires inspired several mountain residents to bolster their emergency preparedness, including Ralph Abraham, a Bonny Doon resident and ham radio operator for the past 70 years. After spending five and a half weeks living in a motel in downtown Santa Cruz, Abraham returned to Bonny Doon, grateful to find that volunteer firefighters had saved his home from the flames, and motivated to help better prepare his community for future disasters.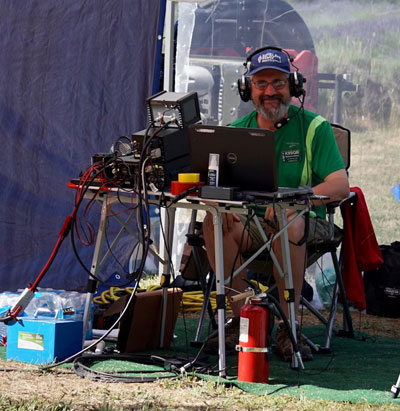 With the help of fellow ham operators in the area, Abraham initiated an emergency radio and walkie-talkie network for each neighborhood in Bonny Doon. Because of the community's remote location and a propensity for power outages, it makes sense for each of Bonny Doon's 27 neighborhoods to create their own emergency communication network, which is simple to do with walkie-talkies. However, walkie-talkies only go so far. "So we need a walkie-talkie to communicate with a ham radio operator," who can then relay the message to emergency services that are outside the walkie-talkie's range, Abraham explained.
Not everyone in the neighborhood must be a licensed radio operator for such a network to work. As long as enough neighbors have walkie-talkies that can be dialed into the same frequency and are capable of transmitting messages far enough to reach the closest neighbor, only one radio operator, who also owns a walkie-talkie, must reside in each neighborhood. (This article, How to Choose a Walkie-Talkie, is one starting point for finding the right equipment.)
Several residents and a few neighborhoods have joined in the effort, but not nearly enough, in Abraham's opinion. He recognizes it takes significant time and energy to set up such a network, but hopes people talk to their neighbors about how they can best communicate in an emergency because "as soon as the power is out," he said, "then there's no communication system at all other than this radio network."